Top IT Outsourcing Mistakes to Avoid in 2016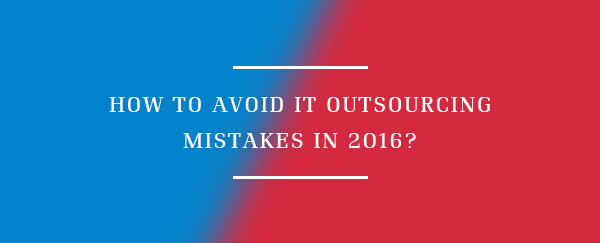 It is true that outsourcing has encompassed the business world in all proportions. It is rare to find any business these days who does all of the job by their own inhouse and have full time employees for all business functions. Nearly every business entity today outsource their work in some degree or the other from virtual assistants, to freelancing as well as in the segment of contractual engagements.
One of the significant reasons for the growth of outsourcing is the cost saving nature and also the business dividends it provides with improved ROI. However, it is important to mention that having a disciplined process in mind is a must for getting the right results otherwise it can surely have a detrimental influence on the future.
As the entire world is outsourcing, there is no sense in you being apprehensive with it. You have to adhere to some best practices that will allow you to invest in the right manner and in the right segment of service providers who will provide you with effective value proposition.
It is a fact that outsourcing surely can help your business grow especially small time companies who may not have the finances of maintaining everything inhouse. Avoiding certain critical mistakes will hold the key and outsourcing truly will remain relevant and an integral portion to IT organization success. It has also to be agreed that people will commit mistakes during the process of utilization.
The critical factors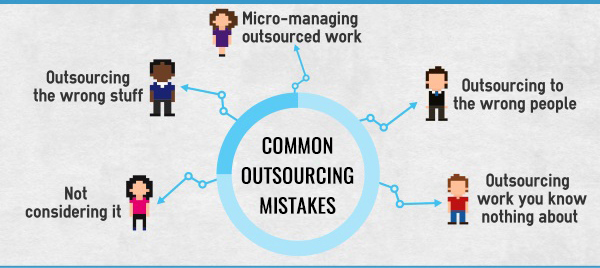 Like any other business, mistakes also happen during outsourcing. While outsourcing has remained a pertinent way of doing business since a long time, yet in the modern world the trend is rapidly evolving often leading to mistakes of costly nature to be performed that can have a negative influence on the business acumen in all accounts.
Business entities do make mistakes in choosing the right partner in outsourcing as well as the quality of service that they will be rendering often due to overconfidence or lack of fundamental knowledge. Here are some of the practices that can be followed to have the right structure in place.

Managing your internal processes: It is important to note that your outsourcing partner will not be able to help you manage your daily activities and as such it is important for you to have a planning structure at place so that you can manage your own activities. Any outsourcing vendor will be able manage their own processes not yours.
Understanding culture and timelines: Flexibility should be the key and understanding that the workers are most productive asset will be more important these days. Getting someone who has understanding of the outsourcing structure culture will be important and alignment of time zones will be critical.
Quality above cutting costs: Do not ever outsource keeping only cost cutting in mind, try to gauge the quality work process that is followed by the organization who will be providing you with the right solution in competitive price ranges. Remember that outsourcing is not a saving activity only but a more facilitation process in a holistic manner.
Flexibility in engagement: It is extremely important for you to have different engagement models with your outsourcing vendors so that they can offer you the complete gamut that will help you in choosing between the options in place. Having a fixed price model for everything in place is the last thing you should be doing in all aspects.
Do not have a wrong mindset during outsourcing and being apprehensive is also a negative thought process. Instead have a proper plan and proactive mindset that will help you in getting the proper structure and business dividends in place for the long run.